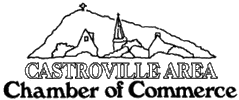 The Castroville Area Chamber of Commerce, a partner of Southwest Gulf Railroad, is holding the Ragin' Cajun Raffle Oct. 10 to benefit the Chamber's building fund.
WHAT: Ragin' Cajun Raffle. The raffle will feature 32 prizes, including four tickets to a 2016 Texas Rangers game that were donated by SGRR. Acadiana Cafe will cater a catfish dinner.
WHERE: Brady's Bloomin' Barn, 2050 CR 271, Rio Medina.
WHEN: Doors open at 6 p.m. Dinner served at 7 p.m.
COST: $100 per couple. Limited tickets available!
For more information or to purchase a ticket, visit Castroville.com or call the Chamber office at (830) 538-3142. You can also call Chamber President Mike Beasley at (830) 538-3411.